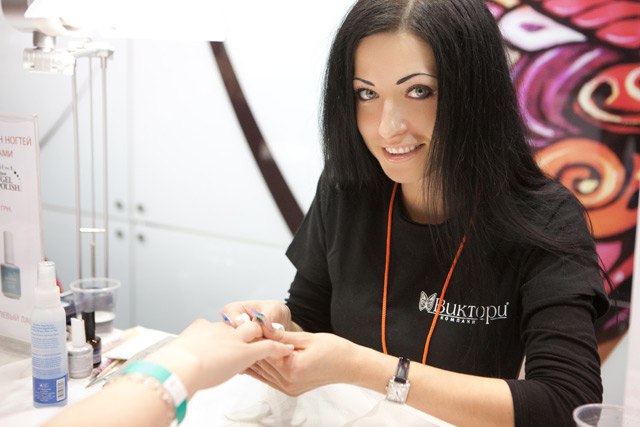 About me
As well as for most of the other manicurists, my career began as a usual hobby. Nail extension was and remains my favorite activity. But then I couldn't even believe, how important will be for me this hobby. How much work and efforts it is necessary to enclose to receive that result for which I strove and I continue aspires, because there is no limit to perfection. I consider that only the person, who sincerely loves his work, can create really exclusive works. Any, even the smallest detail which I see in the world surrounding me, can become idea for new design of nails.
Art of manicure — is my passion, my life. I derive enormous pleasure from well performed work and it isn't important, how many efforts were necessary to make. In art of manicure there is something mysterious, that helps to open from inside and to show the talent so, how it is only possible.
It seems, still quite recently I attended various courses of nail extension, professional development, seminars and trainings! Kiev was full of ideas and opportunities, and I wanted to learn all. And here now I am already certified specialist, the participant of multiple competitions and programs, the certified teacher. And today I try to create ideal designs and nails. It is difficult to bring the result to an ideal and not to everyone in power therefore each new day I improve my skills and each new client for me — it is some kind of new opportunity to create a masterpiece.
A large collection of gel varnishes, a set of brushes, tools and accessories became my magic wand. I do the world a little more beautifully and more kindly with their help . Whatever's happening in the fashion industry, beauty has always been, is and will be popular! And it means that I will continue to delight you with high-quality work, new designs and ideas.
Persistent work and thirst of knowledge led me to good results, but I am not going to stop on it:
Master designer of Ez Flow.
Prize-winner and winner of the Cup of Friendship Championship (St. Petersburg, 2012,2013, 2014),
The two-time owner of the Grand Prix of the "Nevskie Berega Championship" on "the Cup of Friendship" (St. Petersburg, 2013),
Prize-winner of the "South Cup" Championship (Odessa, 2012),
Prize-winner of the "World of Nails" Championship (Zaporozhye, 2012),
Prize-winner of the "Cup of Kharkov" Championship (Kharkov, 2012),
Silver prize-winner of the Naillimpix Championship (London, 2013),
The prize-winner of the Championship on "Russian Cup" (St. Petersburg, 2013),
Member of the Ukrainian national team "Victory",
Trainer of the Ukrainian national team "Victory",
Educator of manicure, modeling, design of nails in "Victory" Nail Training Centre, Kiev,
Member of the Union of hairdressers of Ukraine,
Judge at the national Championships,
The master in modeling of nails of the 1st class (according to the KSSK standards),
The author of numerous publications, step-by-step technologies, articles in professional editions, such as: "Nogtevaya estetika", "Hand & nails", "Nailcouture", "Nailure", "Shopping love".
Nail-stylist in the team working on creation of covers of the best Ukrainian professional magazine "Nogtevaya estetika".