Description of services
Services in nail extension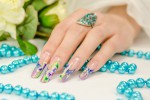 It is impossible to exaggerate a role of beautiful manicure. Well-groomed hands, a monophonic covering, the French manicure or stylish design is a sign of a good form and a fashionable element of image. Nail services I provide is the best combination of quality of materials, unique design and the price.
Nail extension by acrylic
Modeling of nails on acrylic technology. Qualitative professional production, modern technologies and professional skills – all this gives the chance to create beautiful nails. The strength, ductility and durability satisfy the most demanding customers. Besides acrylic nails can be removed easily using special tools, and color acrylic powders open for masters unlimited opportunities in creation of acrylic designs, whether it be aquarium design, a decorative French manicure or a beautiful molding.
Such shapes of nails are actual today:
Modern almonds
Pipe
Stiletto
Oval
Edge
Nail extension by gel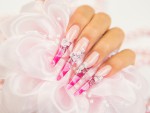 Modeling of nails on gel technology. The designing and strengthening, high-quality gels of the American brands known around the world are suitable for modeling and strengthening of nails. Gels are align itself perfectly and provide strong adhesion with a natural nail. They are hypoallergenic and no odor. Innovative gels will be polymerized not only in usual UF sets, but also in new LED-devices, just for a minute. A large palette of the camouflaging gels will satisfy needs of any clients and will allow to pick up the most suitable shade under the skin type. Beautiful bright white gel allows you to create perfect business French, for a sophisticated lady. Nail extension by gel allows giving them any form.
Manicure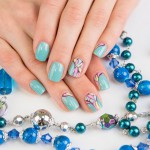 Services of  manicure include various types of care, design, coating and painting. Often we are approached to do:
Children's manicure. It not only helps children to join a habit to look after itself, but also disaccustoms to an unattractive habit to gnaw nails. Naturally, when we performing this manicure exclusively high-quality materials are used.
Hot manicure which is carried out on special lotion, in a tray with heating. This type of manicure suits people with very dry skin of hands and well heals the inflamed cuticle.
Classical manicure. It is the most widespread type of manicure in our country.
European manicure. It is carried out not by the instrument, and by means of special gel for removal of a cuticle which being absorbed, softens, humidifies a cuticle and supports the skin around the nail in a healthy state.
Man's manicure. Consists of comprehensive care for hands and nails, giving a neat shape plate, removal of the cuticle.
Hardware manicure. It gaining the increasing popularity today, it is performed by using a professional drill and mill. It is Ideal for clients with dry skin of hands.
SPA (sanus per aqua – lat. treatment by water) manicure. Procedure includes five steps to care for skin of hands:
The clearing soak with lemon juice, contains B5 vitamin, tones up, bleaches and moisturizes the skin.
The peeling sсrub with mineral salt. It removes the coarsened skin, to relieve irritation, increases elasticity. And Shi's oil, promotes regeneration of skin.
The soft peeling scrub with mint. Exfoliate the skin, relieves muscle tension and improves circulation.
Massage lotion with white tea. Moisturizes, removes irritation of skin.
The moisturizing lotion with a ginger root. Contains a complex of natural oils, regenerates cells of skin.
Paraffin therapy. Applying to the skin a warm paraffin at a temperature of 52 С® – 54 С®, promotes sweating, and toxins from the skin, and also blood circulation and moisturizes the skin.
Nail sealing— one of effects of polishing. Consists of three stages:
1) Shaping.
2) Sanded of nails
3) Polishing of nails.
Strengthening of nails
Strengthening by bio-gel. The procedure helping to strengthen natural nails. The soft, elastic, dissolved gel is ideally suited for strengthening of thin nail plates. Soft Soak off gel is easily applied, procedure takes no more than 25 minutes, including preparation. Also easy to remove( (are dissolved) by special means for removal bio – gels. It can be combined with a covering color gel varnish. As a result nails look well-groomed, accurate within 2-3 weeks.
Polishing of nails by gel varnish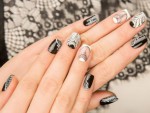 One of the most popular procedures today. The new form of gel varnishes provides strengthening of nails and bright gloss, during two – three weeks. A rich palette of shades, easy application, quick removal, opportunity to execute the most trend designs, such as: gradient, ombre, texture, painting, lunar manicure, anti-French (reverse manicure) and many other things. Gel varnishes are polymerized, both in Ultra-violet devices, and in LED-devices, in the last devices it is will be polymerized just in 30 seconds that considerably saves time. All this does a polishing by gel varnishes of one of the fastest, fashionable and demanded services around the world.